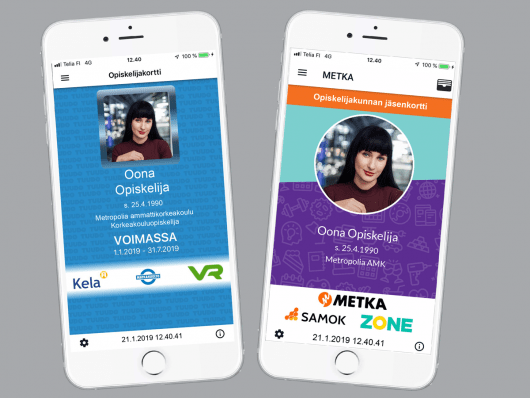 The official mark of the student status is the student card! In Metropolia you can get the student card by getting the free Tuudo app on your phone.
A valid student card is the easiest way to prove your student status
on long distance trains (VR)
on long distance buses (Matkahuolto)
at student cafeterias.
With the student card you also get hundreds of student discounts all around Finland. The digital student card is available for both iOS and Android users. Download the Tuudo app from Google Play and Apple stores.
New student
NB! You need your Metropolia credentials before you get access to your student card! The credentials are given to new students during the first day of studies.
Get your Student Card:
Install Tuudo app
Sign in with your Metropolia credentials
Choose "Student card" from the Card wallet on the app
Pick a photo for your card
Done! Enjoy your student life!
Join the Student Union:
Join the Student Union METKA to access even more benefits, to use the Zone Sports Services and be a part of the student community!
Go to OMA Student Desktop for online payment or visit our member service point
Purchase the membership (detailed instructions on the Membership page)
Start using your METKA member ID on Tuudo!
Get the plastic Student Card
We will update the information of ordering a plastic student card on this page during summer 2019. Stay tuned!
Renewing your Student Union membership
You can renew your membership by
Paying the membership fee online on OMA
Visiting M-piste or during our campus tours!
Please remember to retrieve a sticker if you have a traditional plastic student card. The stickers are available at M-piste and during METKA's campus tours.
This post is also available in Suomi.