Students interested in global development issues gathered together at From Local to Global Camp organized by METKA's DeCo group during 8-9 May 2015. From Friday to Saturday we enjoyed the countryside and nature at Sierla camping center while exploring questions of global development, economies, and global responsibility.
During the camp we discussed themes related to Global Economies in Students Daily Lives project; globalization and global economies impact on developing countries, reflected on what the implications of our consumption patterns are on people's lives elsewhere in the world, and how students may bring about change.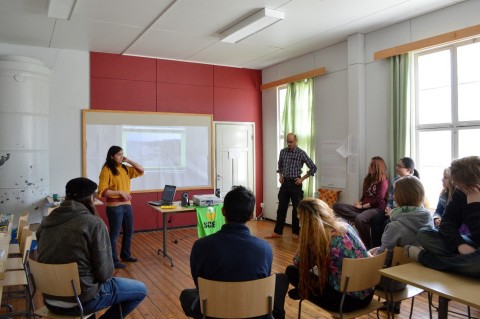 Students got to know about METKA's Ghanaian partner organization SCEF's work and everyday challenges in Ghana when Tanja Saariaho told about her experiences and work as an intern at SCEF in Ghana's capital Accra.
We also planned DeCo group's own workshop that will take place during the autumn term, as well as students' own promotion campaign that promotes the DeCo's workshop series and group activities among Metropolia students. The workshop preparations and project work will be continued in DeCo group's monthly meetings.
Hard topics and discussions were not the only things the camp had to offer. We most definitely enjoyed sauna, rowing on the lake, outdoor games, and relaxing by the bonfire.
METKA's development cooperation group DeCo gets together every month. Come and join us! For more information, please check out the METKA DeCo group on Facebook and join our mailing list by writing a message with title "newsletter" to us at kehy@metkaweb.fi.
Elli Keränen
Dcelopment Education Coordinator
Photos by Sergei Ossif