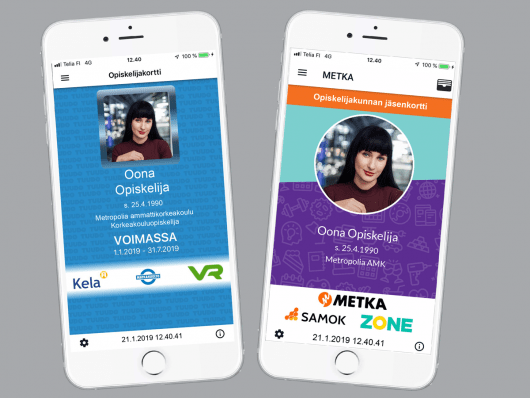 Show your student status with an official student card!
METKA coordinates and produces student cards for Metropolia students with two student card providers, Tuudo and Pivo.
We are working on getting plastic student cards back into production in fall 2020. Follow our channels to get the news first when plastic cards are available again!
FAQ includes questions about student cards as well.
Am I eligible for a student card?
You are eligible for a student card, when
you have a right to study in Metropolia UAS
you are present as a student
you are a degree student.
Exchange students and those student who are completing first-year studies in the Open UAS are eligible to student card as well.
If you are not sure if you are eligible for a student, you can check it easily with Tuudo. Just log in with your Metropolia credentials, and the app will recognize your study right automatically.
New students get access to a student from the first day of studies.
Please note that your digital student card will stop working as soon as you graduate. The plastic student cards are valid according to the sticker given onto it.
Digital student cards: Tuudo and Pivo
METKA develops student cards together with Tuudo and Pivo. Download either one or both from your phone's app store!
All major Finnish student benefit providers, such as VR (trains), Matkahuolto (long-distance buses) and Kela (student meals) accept both cards. Also HSL (local transit in the capital area) accepts both cards if you want to update the student status on your travel card.
Tuudo and Pivo, what's the difference?
Tuudo makes student life easier especially at school. In Tuudo, you find for example your course schedules, cafeteria menus and other Metropolia services. You'll need your Metropolia credentials to use Tuudo.
Pivo is an app that was originally used for online banking services, but today it also contains a student card and student benefits by Slice.fi. To use Pivo, you will need your bank credentials.
Why does METKA has two digital student cars, you may ask?
To use Tuudo, you will need only Metropolia credentials, nothing else. Tuudo is free to use for all Metropolia students, without METKA Membership as well. This is still exceptional in Finland, as METKA was the first student union in 2019 to provide students with a student card, which does not demand student union membership.
Pivo is meant only for METKA Members. Therefore, you will need a valid METKA Membership to use Pivo. With Pivo, METKA wants to offer extra benefits to our members as a thank you for joining us.
You don't need to choose only one: feel free to use both to make your student life flexible!
How to get your student card
Below are instructions how to take all our student card options into use.
Tuudo
Install Tuudo app
Sign in with your Metropolia credentials
Choose "Student card" from the Card wallet on the app
Pick or take a photo for your card
Done! Enjoy your student life!
Pivo
Download Pivo on your phone's app store. Keep your online banking credentials at hand: you will need them when activating the card! Photo is added while taking the card to use.
I want a plastic student card!
We are renewing the order and production process of plastic student cards. At the moment new cards are not available. We will update the information of ordering a plastic student card on this page as soon as the process is ready, most likely in fall 2020. Stay tuned!
If you cannot use digital student cards, you will need a paper study right document to get student benefits. You can get one from Metropolia Student Services.
This post is also available in Suomi.