Speksi is interactive improvisational theatre that combines music and dance performances with audience involvement. In speksi tradition, the audience can shout "Omstart!", at which point the pre-shout scene is replayed in a different manner. Omstarts can also be accompanied by refinements, such as "Omstart, Stone Age!", in which case those on stage react by acting the scene according to the refinement. Thanks to the omstarts, each show is unique and the script transforms in every scene.
Speksi plays have a long tradition in Finnish student culture. They are common in the university world, but METKA's Speksi is Finland's first for Universities of Applied Sciences. In the production of a speksi, it is essential to have a great team spirit and teamwork, as all team members contribute essentially to the performance. Speksi plays are done completely by the students. It is a very nice hobby to accompany your studies with and befriend people from other degrees!
This year's speksi – Hyvät, pahat ja zombiet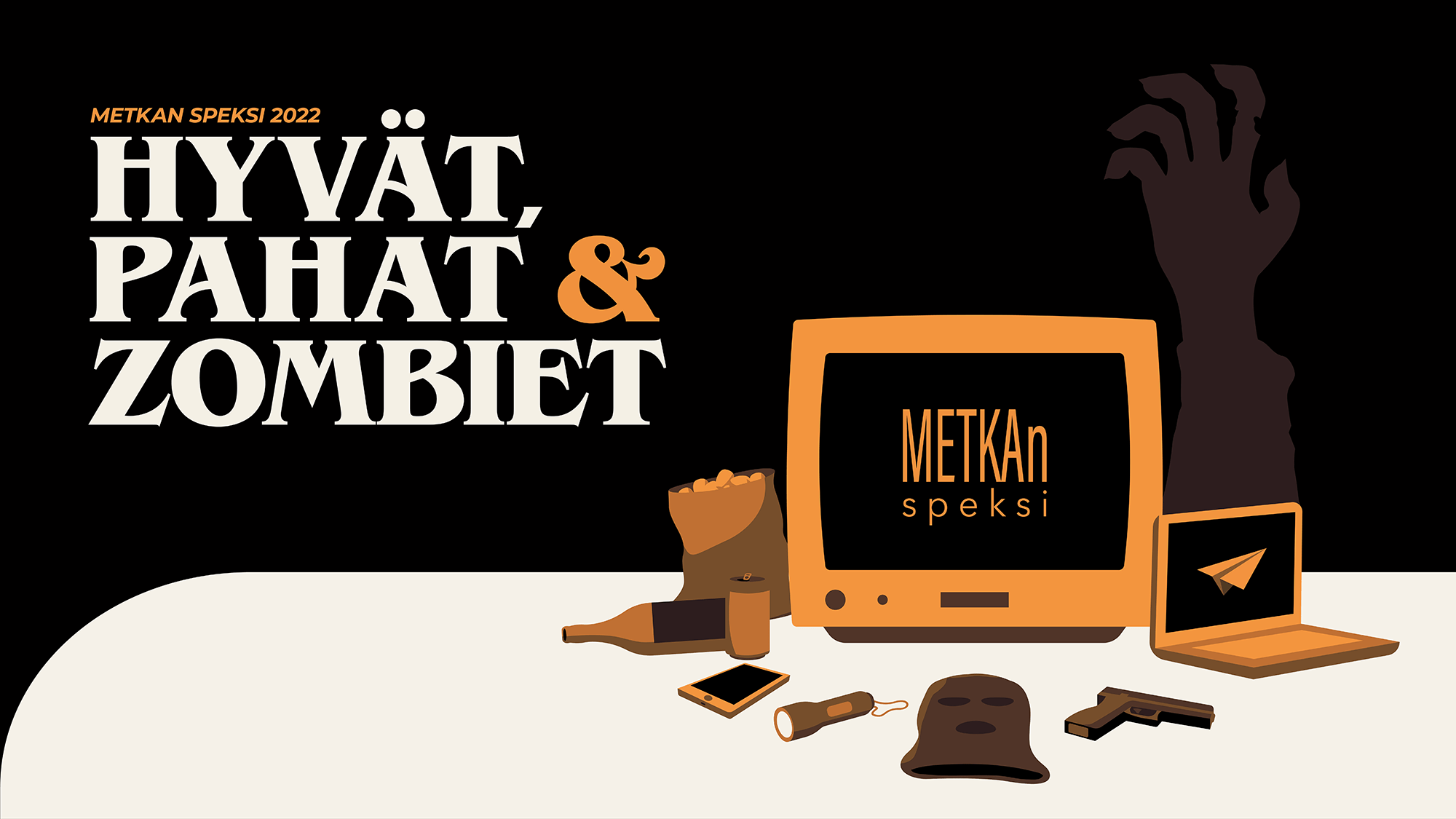 This year promises a freezing thriller with zombies!
Come and see how a group of friends rob a bank while a zombie attack hits Earth. The robbers face an unprecedented situation when they have to work with bank workers to survive. Can they get along with each other and come up with a solution to the zombie problem together before it's too late. You will find the answer to this and many other questions in this year's METKA's Speksi Hyvät, pahat ja zombiet.
The season will premiere on 9th of September at Arabiasali in Metropolia's Culture Campus.
The performances are in Finnish.
Performances
Attention! Due to a case of sickness the two first performances were cancelled. The new premiere is on Friday the 9th of September.
Fri 9.9.2022, 18.00
Mon 12.9.2022, 18.00
Tue 13.9.2022, 18.00
Fri 16.9.2022, 18.00
Fri 23.9.2022, 18.00
Mon 26.9.2022, 18.00
Tue 27.9.2022, 18.00
Fri 30.9.2022, 18.00
Tickets
Tickets are sold in Kide.app and at the door if there's room.
Student ticket 16€
Basic ticket 22€
Contribution ticket 30€
Member ticket 8€ (For members of METKA, Laureamko, Helga, ASK, O'Diako, TUO & JAMKO)
Group ticket 14€ (min. 5 people)
Contact us
If you have any questions, you can easily contact the producers by email at speksi@metkaweb.fi.
Follow us on social media!
Instagram: @metkan_speksi
Tiktok: @metkanspeksi
Facebook: @MetkanSpeksi
METKA's Speksi team from 2019, after the Propaganda show.
This post is also available in Suomi.